Tartonne
Departement of the Alpes de Haute Provence - Pop.: 200 inh. - Altitude : 1.000 m.



From Nice, take the RN 202, then 2 km before Barrême, take the D19 for 14 km.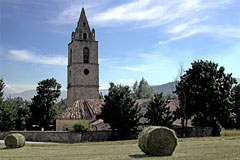 Tartonne is at the foot of the Cheval Blanc mountain (2323 m), in a beautiful spot surrounded by stony hills with strange folds and ravines, wooded hills and rolling fields.

It is a very small village where agriculture still plays an important role, as shown by several farms still very much in activity, surrounded by wheat fields where tractors are at work and barns filled with hay.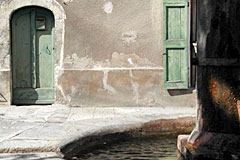 The rest of the village consists of a small square with a refreshing fountain, a chapel and its bronze bell, some superb stone-built houses, one or two smart modern houses, a sleeping dog and an old lady enjoying the cool evening air in her garden.

Tartonne's only aim is to offer you complete peace of mind in a remarkable natural environment.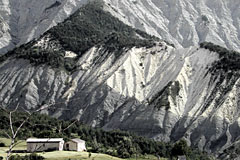 Moreover, here you are on the "Time trail", where numerous geological curiosities are to be found.

There are plenty of these in the region: just a few kilometres above the village, a panel explains the origin of the "Défens fault", a huge break in the earth's crust which has influenced the region's geological history for millions of years.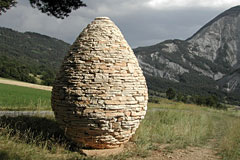 Finally, last but not least, you will no doubt be speechless in admiration when you see the church of Notre-dame d'Entraigues, built away from the village.

It's a marvellous building, austere and elegant, with its chancel (12th century), nave (13th century) and "Romanesque Alpine" bell tower (14th century) in the middle of the wheat fields.

Tartonne is a surprising place, with its marvellous heritage and marvels of nature!




What to see:
Church of Notre-Dame d'Entraigues (12th-14th centuries, listed).
Salt water well. Remains of a 17th century château.
Transverse valleys of La Peine.


Leisure activities:
Hiking (a GR footpath passes through the village) to the Barre des Dourbes or the peak of Couard (1988 m).
1 equestrian centre.


Accommodation:
Holiday rentals and gites.
Overnight gite and restaurant.


Neighbouring towns and villages:
Clumanc (8 km), Lambruisse (10 km), Saint Lions (14km) and Barrême (16km).