'; //-->
La Brillanne
Alpes de Haute Provence Departement - Population : 1,119 inh.



At the intersection of the N100 coming from Forcalquier and the N96-E712 connecting Les Mees to Manosque.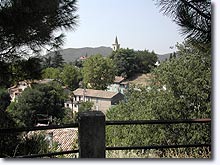 La Brillanne is a large Provencal market town that stretches along both sides of the national highway, between bright green lawns and hedges of flowering pink laurel. An avenue of plane trees leads you to the most picturesque part of the village, on a small slope where in former times a château once stood.
Now it has been converted into a viewing point, the Château viewing point!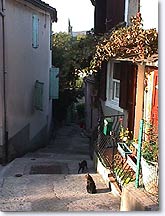 Take the "chemin des Garri" to get there: on the way take time to enjoy a few beautiful stonework houses, a very refreshing large fountain, and finally, the old round tower and some remains of the ramparts.
When you reach the vast esplanade planted with cypress trees and its welcoming green benches, apart from a glimpse of the rest of the village, the roofs of old tiles and the church bell tower, you will have a marvellous view of the Durance valley.
Here, you will really feel that you are in the heart ofGiono's Provence !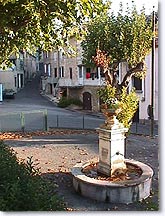 The rest of the village, while it is not particularly pretty, does offer a few nooks and crannies, stairs leading to peaceful streets, with grey facades brightened up by almond green or lavender blue shutters.
Not to mention some pleasant arbours laden with vines, that offer a lovely impression of cosiness... and human warmth, for you will be greeted by locals, young and old alike, that still take time to live!






What to see:
Church.
Remains of the ramparts.


Leisure activities:
Walks. Mountain Biking. Cycling.


Accommodation:

Holiday rentals.


Neighbouring towns and villages:
Villeneuve (5 km), Lurs (5 km) and Forcalquier (11 km).