'; //-->
Aiguines
The Var Departement - Verdon Nature Park - Population : 272 inh.



Take the D957 from Aups for 24km.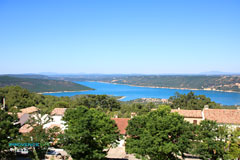 Located at the gateway to the Verdon Gorge, above the superb Lac de Sainte Croix Lake, Aiguines is a perfectly located little village nestling in the heart of a magnificent untouched natural environment offering spectacular views of the Verdon Canyon (from the D71 and D23) and also of the Sainte Croix lake.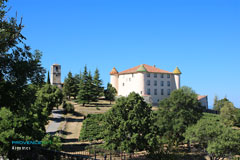 At Aiguines you will find a wonderful privately-owned chateau, dating back to the Renaissance.
It has been tastefully restored with its varnished roof tiles, and overlooks the lake majestically, offering a breath-taking view stretching to the Valensole plateau, the Alpine foothills and the Luberon mountain chain.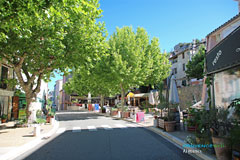 If you like crafts and woodworking you should visit the wood turning museum (open in July and August) as well as the arts and crafts shops and workshops to be found in the village.
You can also take the opportunity to discover the old alleyways of the village, lined with beautiful old authentic houses, giving the village great charactere.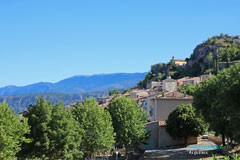 Aiguines offers tourists, hikers and sports lovers a wide range of activities to discover the beauty of the surrounding area and natural environment in every detail. Anything is possible here
If you want to take it easy, simply stretch out on the beaches of Sainte Croix lake. More active visitors are spoilt for choice, with climbing, white water sports, air sports available, as well as the simpler pleasures of pedal-boating or windsurfing!.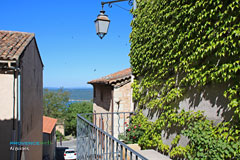 Aiguines has become a regional climbing capital thanks to the many climbing tracks in the village. Whatever your level, you can climb in all seasons.
In summer you can focus on tracks located north, cooled and ventilated by the Gorges, in winter the tracks of the western side are in full sun in the afternoon.
Extreme sports enthusiasts will be delighted also with bungee jumping from the bridge of Artuby, the highest bridge in Europe (182m), big thrills guaranteed (from April to November only).






What to see:
The village.
The Verdon Canyon.
The Sainte Croix lake.


Leisure activities:
Hiking, horseback riding.
Kayaking, boating,.
lCimbing, bungee jumping.
Market on thuesday morning.


Accommodation:

Hotels.
Holiday rentals. Gites.
Bed and breakfast.
campsites.


Neighbouring towns and villages:
Les Salles sur Verdon (7 km), Moustiers Sainte Marie (15 km), Aups (21 km) and Bauduen (22km).