Sigoyer
Departement of the Alpes de Haute Provence - Pop.: 100 inh. - Height: 832 m.



On the A51 Highway, exit Sisteron North, then take the Gap direction, then Thèze, an then D4 and D654 heading to Sigoyer.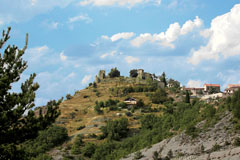 From afar, the ruins of Sigoyer's impressive medieval castle are the first things that come into sight, standing on a promontory.

The "château" was once owned by the bishopric of Gap, although originally built as home to a marquis in 1719. The section that has now been restored is private property and is not open to visitors.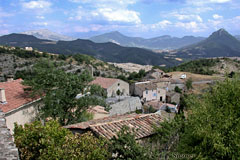 However access to the terrace is allowed. It affords a 360° panorama of the surrounding countryside in the Durance valley.

You can if you wish have a (respectful) look around the ruins, which are now just home to a colony of turtle doves ... and dream of yesteryear.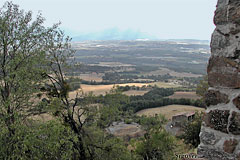 An interactive terminal on the church square will give you a 3D history lesson about the château, from its beginnings as a dungeon-tower erected in the Middle Ages to its destruction during the Revolution.

The terrace where the church is built also gives you a marvellous view, particularly from the small public garden below, where a wooden table surrounded by benches awaits ... and enormous patches of fragrant lavender.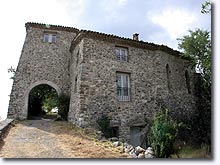 Cypress and fir trees, hens and dogs, Sigoyer hesitates between a countryside and mountain atmosphere.

Old houses, a pretty bell tower and some fine Roman tile roofs, with the exception of its château Sigoyer has little heritage to offer...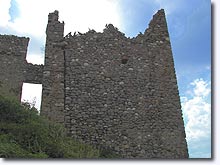 Apart from a beautiful location, gentle rolling hills and rocky cliffs, exceptionally pure air, total tranquillity, a commanding view: what more could you ask for, to recharge the batteries?






What to see:
Ruins of a 13th century chateau.
Church of Notre-Damebuilt in 1643 and renovated in the 19th century.


Leisure activities:
Hiking: Paths to Thèze, (1 hour 40 minutes) and Les Baudes (3 hours).
Equestrian centre.


Accommodation:
Bed and breakfast.
Gite.