Castellet les Sausses
Between Entrevaux and Annot via the RN202, take the D 902 heading for Col de la Cayolle, then the first on left (D660) for 3.3 km.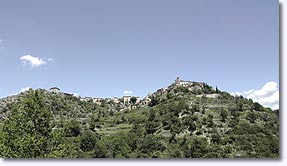 Perched high on a rocky spur overlooking the Var valley, Castellet les Sausses (derived from "Castelletum del Salsum" referrring to an old castle ... and a salt-water fountain) is a small village with a long history.
Ruins of the ramparts and an ancient fort can still be seen.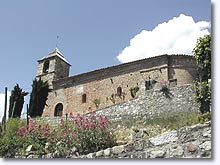 Today the pace of life at Castellet les Sausses is easygoing, although there are still two farmers raising sheep and cattle, and two handicrafts craftsmen, one making objects from dried flowers and the other creating wooden toys.
The large shady car park receives a pleasant breeze coming up from the valley, and invites the visitor to rest a while on its comfortable green benches.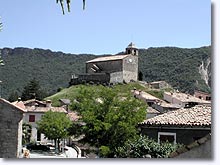 It also offers a splendid panoramic view of the valley and the village, topped by a superb medieval church built from yellow stone worn down over the centuries.
Houses huddling against each other, a street winding its way up in hairpins, a few stone barns, some of which have been beautifully restored, a covered passageway and bucolic gardens ...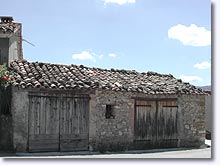 You have to make the effort to reach this church with its square belltower and shingle roof, standing proudly on its promontory.
Perhaps you'll take advantage of the thoughtfully placed bench to fully appreciate the view you'll have from up there, of the valley on one side, and of the marvellous old Roman tile roofs on the other.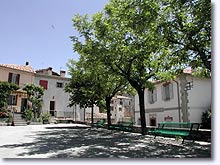 The present municipality also includes the hamlet of Enriez below, near to the Var river and the road to
Guillaumes
.
It comprises 25 square kilometres of untouched natural environment - high mountains, culminating in a peak measuring 2,598 metres - offering a refuge to wildlife of tremendous diversity.
What to see
The 12th century church, included on the list of historical monuments.
Leisure activities
Numerous hiking paths.
White water sports in the Daluis area, in close proximity.
Accomodations
Restaurants.
Holiday rentals.
Municipal gite.