Saumane
Population : 100 inhabitants
Discover the small village of Saumane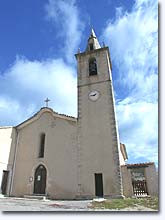 Right at the foot of the Lure Mountain, 28 km from Forcalquier, the little village of Saumane stands peacefully and imperturbably in a beautiful setting.
If you come from Banon, you'll travel through the old plantations of chestnut trees, along a delightful little road bringing you right into the village.
Saumane is far removed from the main roads and the crowds,and you'll love its tranquillity.
Here you are in a little rural village that has conserved all its authenticity.
As you walk along its little streets, you'll notice some fine old houses and farms dating back to the 18th century.
There aren't many places to visit, but there are great walks to enjoy on the Lure Mountain, making for the pass of Saint-Vincent and the sheep barns at Garchette and Chapellane.
Pure air, sunshine and beautiful hikes are on the programme, plus some of those famous little goats cheeses surely!

What to see
15th century church of Saint-Pierre aux Liens.
Old village Les Girons.
Leisure activities
Moutian biking. Horseback riding.
Bathing, swimming in the Lake of la Laye (20km).
Hikig, walking. (numerous marked trails).
Accomodations
Farm-inn. Country gîte.
Bed andbreakfast and "tables d'hôtes".