Vaumeilh
Departement of the Alpes de Haute Provence - Pop.: 240 inh. - Altitude : 600 m.



At Sisteron take the D951 heading for Châteaufort for 8.5 km, then turn left to join the D304 after Valernes.



Vaumeilh is a peaceful, unpretentious little village built on a small mound, by the bank of a tuneful river.

The local people, both young and old live in the street in summer and observe the rare "strangers" that come through here.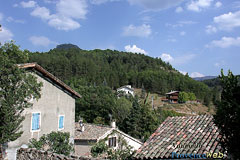 Park on the immense brand new car park, overshadowed by a large church, and take a step back in time when you stroll along its peaceful little streets, and come across an old lady sitting in front of her door doing a crossword.


Note the local school (dated 1889) the schoolyard in the shade of hundred year old plane trees, and the fountain dating from the last century (1928).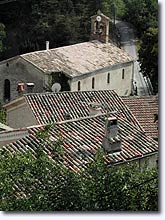 Climb the stairs where the cypresses, apricot, pear, and lime trees grow, to admire the old stonework houses undergoing restoration, and the grey facades with their soft green or ice blue shutters, nicely faded by the Mediterranean sun.

Surrounded by woods with rustling leaves and lulled by the singing of the cicadas, Vaumeilh is a typical Provençal village, basking in the fragrance of lavender!






What to see:
Eglise 19ème siècle.


Leisure activities:
Short hikes (path to the Tête des Monges: 2 ½ hours).
Gliding (Sisteron-Theze-Vaumeilh aerodrome).
Equestrian centre.
The "sentier des Contes" (Tales' path) starting from Fombeton bridge : "The Trinitarian Order".
An itinerary on foot and by car (6 hours), a real adventure to enjoy with family...
All you have to do is buy the "magic booklet" (30 euros) and off you go on a journey to "the country where rocks talk"!
Information from the tourist office at La Motte du Caire.


Accommodation:
Numerous gites (studio flats, houses, etc.).
Bed and breakfast.


Neighbouring towns and villages:
Valernes (3 km), Sigoyer (6 km), Châteaufort (10 km) and Nibles (10 km).