Lamanon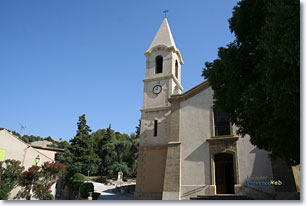 Situated between
Salon de Provence
and
Cavaillon
, Lamanon is a charming little village which lies peacefully at the edge of the
Alpilles
.
Before you reach the village you will travel along a pretty little road lined with large plane trees which takes you to the gates of the Chateau de Lamanon.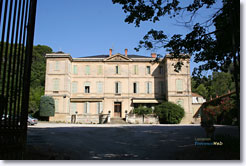 This magnificent building (privately owned) is surrounded by lush parkland. It was built in 1660 by one of the lords of
Cadenet
.
In 1745 the Marquis Marck Tripoli de Panisse had about fifty cottages built near the chateau to house the families of the agricultural workers and domestic servants who were employed there… and that is how the village of Lamanon came into being.
Next to the château you will find the church and its large belltower, originally completed in 1783 and restored in 1988. You can park in the square by the church and continue your visit on foot.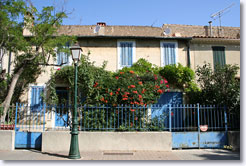 A few metres away is the main street which is lined by little rows of cottages, each one with a little garden at the front. They are all alike, yet each one is different - neat and charming with stone facades, colourful shutters, old - now restored - doors and abundant greenery.
You may catch glimpses of some of the charming interiors, with typical Provencal furniture and an atmosphere which is more akin to a glossy interior design magazine than of cottages belonging to the workers of long ago..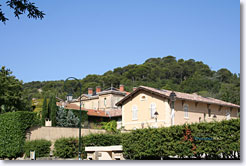 There is also a long, broad esplanade framed by cliffs which are riddled with caves formerly used by cave dwellers. These are the Grottes de Cales which were inhabited by people in Neolithic times. The remains of mediaeval fortifications were also discovered here, as well as the still visible ruins of a chateau.
You can learn more about Cales by visiting the
Cales St Denis Museum
which is housed in an old town house in the Place du Cabaret and is dedicated to archaeology, the troglodyte site and the occupations of the past.
Next to the chateau, you will see a plane tree which is three hundred years old and is protected as a natural monument: an impressive 53 m high, with a circumference of 8 m, not for nothing is it known as the Giant of
Provence
.
Leisure activities
Craft fair in June.
Walking, horse riding and mountain biking.
Tennis. Boules. Pont Royal golf course at Mallemort (10 km).
Summer events.
Accomodations
Vacation rentals. Gites.