Bédoin
50 km east of Avignon and 15km from Carpentras on D 974 at the foot of the Mont Ventoux.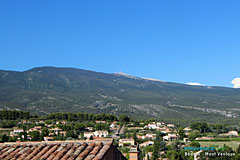 Bedoin is a lovely little agricultural village of the Mont Ventoux region. Spread out over a large area, it comprises several hamlets all of which are blessed with that Mediterranean climate of sun nearly every day of the year.
A
good wine (AOC)
is produced here along with asparagus and various fruits.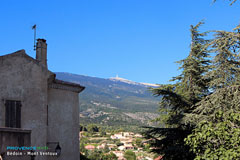 Bedoin also can boast of possessing one of the biggest (6,300h.) and most interesting communal forests of France.
There are 1,200 different species of vegetation to study and is without doubt the most varied forest in this whole area.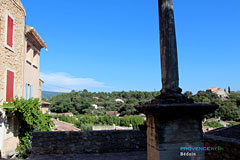 Bedoin is at the foot of the famous and mythical Mont Ventoux, in the middle of superb nature..
Many hikes are offered to better discover (and respect it ...), here the flora and fauna are preciously protected.
Many hikes are offered for those who wish to admire (and respect ) this well protected fauna and flora. An unforgettable outing consists of watching the sun rise over the Mont Ventoux. The Tourist Office will provide you with a brochure describing this excursion along with other half day trips..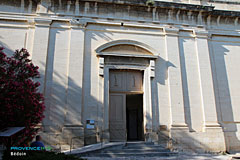 While walking along the Ventoux and its plains you may very well run into one of the last three shepherds of Bedoin tending the sheep with his dog. Perhaps he'll tell you a story of old shepherds and wolves and lambs astray!
What to see
Romanesque chapel Notre Dame du Moustier.
Eglise des Baux de Bedoin.
St. Madeleine's Chapel.
Leisure activities
Monday morning market.
Hiking. Riding. Mountain biking on marked trails.
Swimming pool. Tennis.
Bike rental. Climbing. Mini-golf.
Winter skiing, both cross country and alpine.
Summer cultural activities.
Accomodations
Hotels.
Bed and breakfast.
Holiday rentals, gites.
Vacation village.
5 campsites (1 nudist).