Le Barroux
Situated 12 km north east of Carpentras on the D938, between the Dentelles de Montmirail and Mont Ventoux.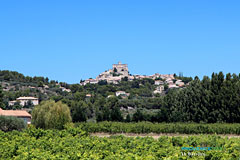 Perched on a rocky outcrop, halfway between
Carpentras
and
Vaison la Romaine
, Le Barroux is a charming picturesque village that deserves a visit.
This well placed village offers a magnificent panorama looking out on the Comtat Venaissin plain, the Vaucluse hills, the Dentelles de Montmirail and of course Mont Ventoux.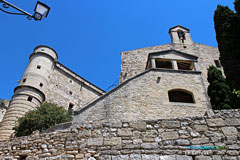 Barroux is known for its castle, perched like an eagle's nest right at the top of the village. Its foundations seemed to be rooted in the rocks from which it springs.
To visit this village, the easiest way is to park in Place de la Barbiere below the town hall. You will notice in passing its beautiful facade in perfect harmony with the castle.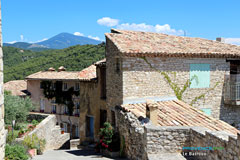 From there you will be able to stroll through the narrow streets of this charming village. You will pass by beautiful old houses which have been restored with great taste.
Through this maze of houses built right next to each other, you will come upon the Descente de l'horloge, where the church of Saint-Jean Baptiste looms up before you, topped with its wrought iron campanile and small bell.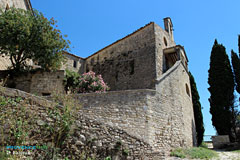 A few steps away is rue Saint Denis dotted with majestic-looking old houses.
Your stroll will lead you right up to the castle accompanied by the musical sound of the many fountains in Le Barroux.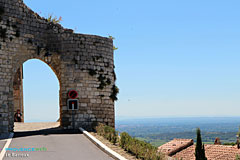 The fortified chateau, with its distinct Renaissance style, will amaze you with its imposing volume and stature.
This fortress has had a turbulent history.
Initially in the 12th century the château belonged to the lords of
Les Baux
It was then passed on to several noble families.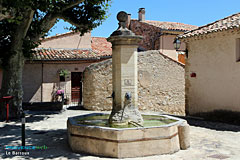 In the 16th century the fortress was converted into one of the most beautiful Renaissance homes of the region. It was damaged during the revolution, sold and then abandoned in the 19th century, and had to wait until 1929 for reconstruction to begin.
Unfortunately all these efforts were brought to naught in 1944 by a fire started by German troops. However, this did not discourage the owners who began restoration work anew in 1960.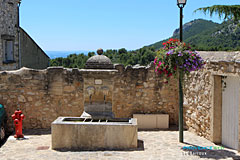 Today only part of the castle can be visited. It still possesses medieval elements and a chapel, decorated with wall paintings dating from the 18th century, and listed as historic monuments.
Paradoxically, its walls are in a very bad state and are likely to fall, preventing any religious ceremonies or visits. But other parts of the château may be visited. Visits and upkeep are currently being managed by an association.
During the summer period it plays host to various cultural events.
What to see
XVI° Castle and its listed gardens.
Ste Madeleine monastery.
Church St Jean Baptiste.
Leisure activities
Hiking. Tennis.
Accomodations
Hotels.
Bed and breakfast.
Vacation rentals.