Carpentras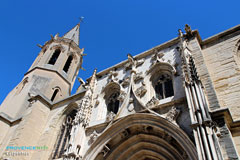 In the heart of the fertile plaines of Comtat Venaissin, Carpentras its capital, offers a real treasure to all lovers of history and architecture.
Carpentras is indeed above all a city of history.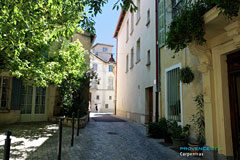 It is by strolling randomly through the streets of the center and alleys bathed in freshness and light that you will discover the treasures of the city: The Orange Gate vestiges of the old fortifications, the Episcopal Palace, St Siffrein Cathedral, the Hôtel-Dieu and its superb 18th century pharmacy ...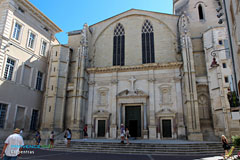 Pay attention to the facades of the mansions you come across, you will see 17th and 18th century mansions with very beautiful doors and balconies restored in the purest Provençal tradition.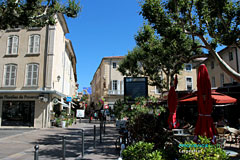 Since Antiquity, Carpentras has always been a market town, the Greeks and the Phocaeans already came there to buy honey, wheat and sheep.
It still retains its tradition today, its colorful Friday morning market enjoys a reputation throughout the region. Don't miss it at any cost!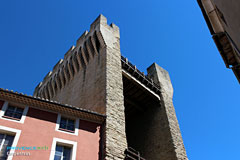 The fair of St Siffrein is also a great moment in the life of Carpentras, it begins from November 27 and it is accompanied by a no less famous black truffle market.
Other Carpentras specialties: candied fruit, strawberries, melons, berlingot sweets and grapes which make the famous "
Cotes du Ventoux
".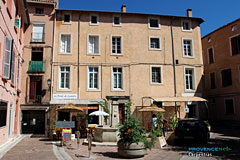 On the outskirts of the city there are numerous marked trails where one can walk and admire the local fauna and flora.
The Tourist Office will be happy to provide you with a map showing 5 different excursions in the area, one of which is a wine circuit-wine lovers take notice!
What to see
Collegiate College Notre Dame des Anges.
Hotel Dieu and its pharmacy (collection of faience and walls decorated by Duplessis, painter ot Louis XVI).
St. Siffrein Cathedral (1405, 1519). Episcopal palace (17th c.). Roman Arch.br /> 14th c. Synogogue (restored in 1954) with baths and pools traditional to theHebraic rite.
Notre Dame de SanteChapel. Clock Tower.
Cultural Center La Charite18th c.
Aqueduct (690m, long, 23m, wide).
The Biblioteque Inguimbertine, is a fabulous library containing: 220,000 books of which 100,000 have rare manuscripts, engravings and bindings. The library is open to the public.
4 museums, numerous art galeries.
Leisure activities
Hiking. Riding.
Mountain biking. Swimming pool.
Tennis. Paragliding.
Climbing.
Cinema. Cultural activities.
Accomodations
Hotels.
Bed and breakfast.
Vacation rentals.
Campsite.