Buoux
Situated 10 km south of Apt via the D113.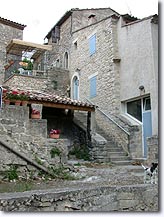 The small village of Buoux is situated among the rolling hills in the heart of the
Luberon Nature Park
. Due to its geographic situation, the village has played a naturally defensive role since prehistoric times.
At the top of the rocky spur, the Buoux Fort served as a refuge for the population during the invasions in the Middle Ages and the religious wars.
In 1660, King Louis the 14th ordered the fort's destruction and from this date, the village abandoned its defensive vocation. Today, Buoux is a peaceful rural town.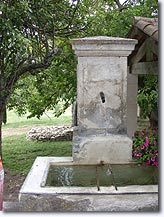 While walking around the village you will see that most of the houses date from the middle and the end of the 17th century. These solid farmhouses, which belonged to wealthy Protestants, have been restored and maintained so well that they add unique style and character to the village.
In the grounds of the Fort you can also discover pieces of the rampart and walls of the chapel which are all that survive of the fortress today.
The steep surrounds of Buoux provide a paradise for climbing enthusiasts. The irregular countours of the Aigue-Brun river are filled with caves, cliffs and peaks and Buoux is a popular place for climbers from around the world.
What to see
Prieure de Saint-Symphorien, 11th century.
Chateau de Buoux, 16th and 18th century (no visits).
11th century Plateau St Pierre church.
Ruins of the Buoux Fort (12th, 14th and 16th century).
On the plateau de Claparedes : "bories" (old stone houses) and an ancient priory de ND. de Clairmont
Leisure activities
Climbing.
Horse-riding.
Fishing.
Hiking and mountain biking.
Accomodations
Hotel.
Bed and breakfast.
Holiday rentals.