Mirabeau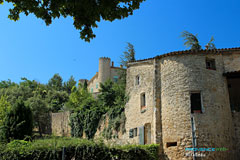 Situated strategically at the intersection between the three
departements
,
Alpes in Haute Provence
,
Bouches du Rhône
and
Var
, Mirabeau is set amongst the hills and small valleys of the
Parc naturel régional du Luberon
, Mont Mourre-Negre, 1,100m high can be seen in the distance.
Mirabeau is dominated by a medieval chateau which appears to keep watch over the village. Surrounded by pinetrees in a magnificent setting, the chateau is unfortunately not open to the public.
From the 12th century, village life was linked to the Durance river, which borders its territory. In the past, Mirabeau controlled the crossing of the Durance by a ferry at the entrance to the Canteperdrix pass.
The river also irrigated the plains and contributed to the rapid expansion of the village.
Today, you are free to go swimming in summer... and if it is too cold you can follow a superb walking trail along the river banks.
What to see
La Madeleine chapel. Pillars of the Pont Mirabeau.
Canteperdrix.
Leisure activities
Tennis, climbing, swimming and fishing.
Hiking.
Accomodations
Hotel.
Bed and breakfast.
Vacation rentals.