'; //-->
Peypin d'Aigues
The Vaucluse Departement - Luberon Nature Park - Population : 659 inh.



37 km. north of Aix en Provence. Take route D556 to Pertuis then La Tour d'Aigues and Grambois.



In the middle of vast forests, Peypin d'Aigues lies peacefully on a slope of the Grand Luberon.
The village is surrounded by three hamlets:
- Hameau de Notre Done
- Hameau des Roux
- Hameau de Fonzillouse (or Fontjoyeuse)..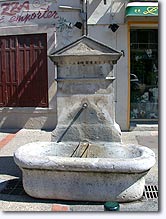 Here nature is uncomplicated with hills and valleys and many streams irrigating the plains planted with grapevines and fruit trees.
In Fonjoyeuse you can walk through the arcades bordered with ancient houses, outside staircases, and terraces blooming with flowers. It's all part of the Provencal charm !






What to see:
Hameau de Fonjoyeuse (17thc.).


Leisure activities:
Hiking (GR 9).


Accommodation:

Gites and Vacation rentals.


Neighbouring towns and villages:
Grambois (5 km), La Bastide des Jourdans (6 km) and La Tour D'Aigues (9 km).