Saint Martin de la Brasque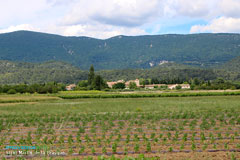 Saint Martin de La Brasque is an ancient village located in the Aigues valley in the south of the
Luberon Regional Nature Park
.
In the XI° century Saint Martin de La Brasque was called and during the revolution ""Le Mont-Libre".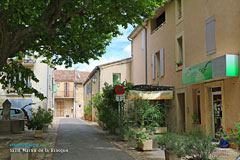 Destroyed and abandoned in the XV° , St Martin had to wait until the XVI° century for its second life thanks to the Noble from
La Tour d'Aigues
.
14 families moved in and the village took the name, Saint Martin De La Brasque.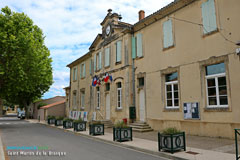 Walking around the pleasant streets of the village you wont fail to notice the impressive "trompe l'oeil" mural next to the school.
Only a small part of the population live in the village center.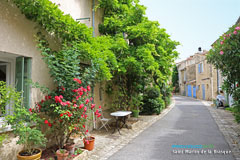 The housing extends to a number of hamlets : Belle Etoile, Les Furets, le Castelas.
In the ancient village of Castelas, only a few ruins remain but you can visit them by taking the pleasant botanical trail.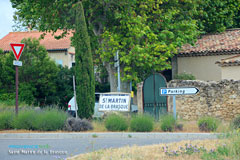 The largest hamlet is Belle Etoile, where you can find some magificently restored "bastides".
Among these, further away in the middle of the vine fields you can spot the splendid
Langesse bastide
, a former nobles residence (private property).
You often find photos of this residence in the beautiful books about the South
Luberon
. It's environment, light and architecture has inspired numerous art photographers and visiting tourists...
There are other beautiful bastides, especially in the heart of the village, one is the
Bret bastide
, a classified building but not open for visits. In the exit of the village in the direction of
La Tour d'Aigues
, you can se the Domaine Sainte Catherine (private property).
What to see
Remains of XI° Chateau.
Leisure activities
Walking. Horse Riding.
Botanical Trail.
Accomodations
Bed and breakfast.
Vacation rentals.