Buisson
The village of Buisson perched on a hill, 234 metres above sea level overlooks the Aygues valley.
This is not the sort of village for a drive through visit... the only way to discover it is to leave the secondary road.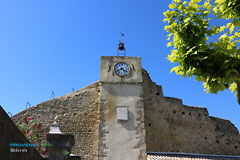 Buisson can only be appreciated from within Buisson itself...! It is no doubt due to its strategic location that the Templars of
Roaix
decided to found a commandery in Buisson.
The village, nestling around a 12th century church, stands out above its former commandery, still protected by its ramparts.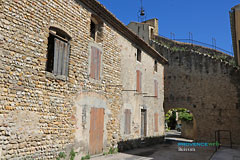 The Templar enigma, "Notre Dame Del Bois" church and its bell tower, the campanile and its red-ochre papal coat of arms, not forgetting the fortified gate... are evidence of a rich and eventful religious past..
To discover all this, simply enter the village and go to the Place Verdun. From there you pass over the threshold of an immense arched gateway, where all the past treasures await you.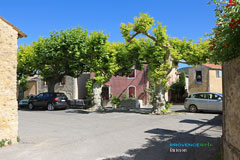 In front of the old ramparts, in the shade of the ancient plane trees on the Place Verdun, a large fountain breathes life into this small market town with its water jets.
This is a really pleasant spot to stroll around, just beyond the ramparts, in the shade of the small streets cooled by the Mistral, where you can catch a glimpse of coloured fronted houses and flowered balconies.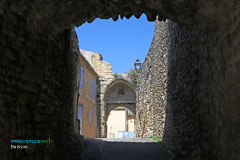 You will find no shops here. They deserted the rural area a long time ago to settle in
Vaison-la-Romaine
.
This little market town has a population of empassioned wine growers, who constantly care for the 3.5 km² of vines on the slopes overlooking the river Aygues.
When you will
taste their wines
, you will understand that their care for the vines has not been in vain and that the result is an excellent local product.
What to see
The walled village, the wash-house.
Notre Dame Del Bois church.
Leisure activities
Walking.
Fishing.
Accomodations
Bed and breakfast.
Vacation rentals.