Modène
At the foot of the Mont Ventoux, 10 km north-east of Carpentras.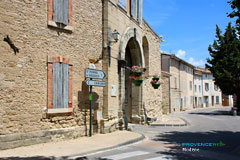 Modene is a small market town concentrated around its ramparts.
From the secondary road that skirts the village, you will be able to catch a glimpse of an immense gate built against the village church.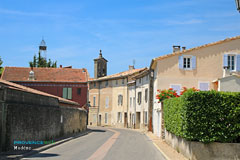 This gate surmounted by a bell-tower and a large clock, with its old facade and its sun-washed shutters, opens the ancient heart of Modene to you.
Inside, there are only a few houses.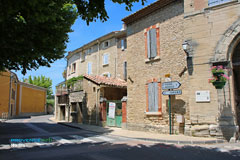 Carefully renovated cobbled alleys will lead you to the Notre Dame de Liesse church, to the town hall and the fortifications of the Seigneurial castle.
The Castle, reworked several times, dates from the 14th century like the ramparts. It was Lord Jean de Venasque who improved the castle in the 15th century by adding mullioned windows on its facade and a spacious courtyard.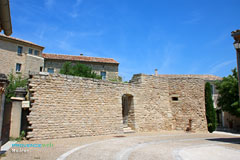 Later in the 18th century, the castle changed hands, was abandoned and then bought by two families from the village (Famille Bordel and Famille Escoffier) ​​in 1796.
The castle is divided into several dwellings, then alas abandoned again. In the XXth century it lost some architectural elements, including the mullions.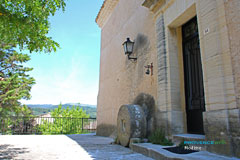 Fortunately, in recent years major restorations have given it the character it currently has.
When you leave, right next to the door you can admire the beautiful fountain of the 4 seasons next to the washhouse where the cyclists come to take a break to cool off and fill their water bottle.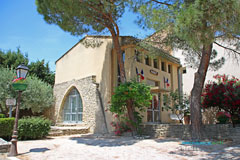 Modene has practically no trade on the spot, it is not really a tourist pole but it is ideal to simply enjoy the calm of the countryside.
What to see
The ramparts and the arched gateway.
Romanesque church with wrought iron campanile.
Leisure activities
Walking. Botanical trail
Accomodations
Bed and breakfast.
Vacation rentals. Gites.