Crillon le Brave
Situated at the foot of Mont Ventoux, 14 km north-east of Carpentras via the D974.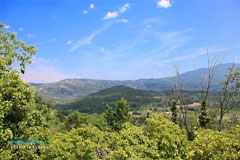 Crillon le Brave is a picturesque little village with lovely stonework houses, perched 363 metres above sea level, with a magnificent view of the giant of
Provence
: Mont Ventoux.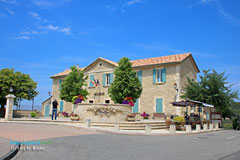 At the end of the 19th century the village Council decided to honour their heroic lord,
Louis de Balbe de Crillon
,(brave among the brave) by naming the village "Crillon le Brave".
When you arrive from
Caromb
, you enter the village through the Gerin gate. Keep going until you reach the car park in front of the mairie and park ther..
A huge bronze statue of Captain Crillon le Brave, 2.30 m high, welcomes you at the entrance to the village as if to invite you to visit.
You will then discover the mairie housed in the former village school, and right next to it the museum of mechanical music. Before going inside, take the time to appreciate the panoramic view from this height.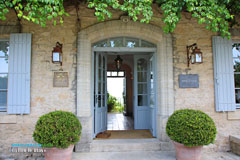 To the right of the mairie, you will be able to admire houses restored very tastefully. A little further on you will discover the
Crillon le Brave hotel
(Relais et Chateaux ****) that has preserved the authenticity and charm of Provencal buildings of olden times.
On this small square, opposite the main entrance to the hotel, is the church of Saint Romain, built entirely in stone. Inside you will be able to see an altarpiece sculpted in wood, considered to be the work of
Bernus
..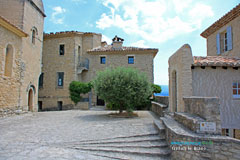 From the Place de l'Eglise, you can reach the medieval chateau (privately owned and closed to the public), but you will only be able to admire its facade and recently added crenels from the outside. .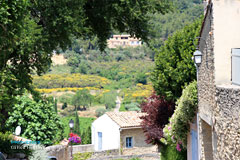 In the past the village lived off agriculture alone. These days Crillon has grown a great deal thanks to tourism. Numerous secondary residences are occupied during the high season. As soon as the good weather sets in there is a large increase in the population.
Don't' leave Crillon le Brave without visiting the cellars of the local
Cotes du Ventoux vineyards
.
What to see
The church of Saint Romain.
Chapel of Notre Dame des Acces.
Museum of mechanical music (barrel organs, music boxes).
Crillon le Brave's statue.
Leisure activities
Tennis, fishing.
Walking and mountain biking.
Accomodations