'; //-->
Caderousse
The Vaucluse Departement - Population : 2,831 inh.



7 km South west of Orange via the D17.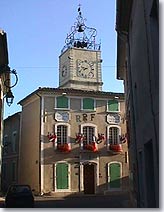 Caderousse is a pleasant little village built in one of the turns of the River Rhone protected by a 3 meter high protective wall which entirely encircles the village. The wall was built in 1856 to protect the village from frequent flooding from the Rhone.
There are only two gateways through the wall into the village : the Leon Roche gateway, better known by the village elders under the name of the Orange gateway, and the Castelan gateway. Caderousse has the feeling of a fortified town, as the wall built entirely of white stone brings a completely different appearance from the interior of the village.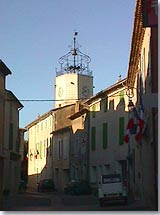 A large roadway, but completely grassed over encircles the village and you can find boule courts, parking areas and play areas. The main shops can be found opposite the Orange gateway in Jean Jaures.
From there a small road takes you to the village hall built in 1752, embellished by a campanile wrought iron belfry. On the facade next to the entrance some small arrows mark the water levels during the big floods in the XVIII and XIX century.
When you take a walk around, or more truthfully get lost amongst the winding streets of the village, visitors will probably stop a moment in front of the belfry of Saint-Michel's church.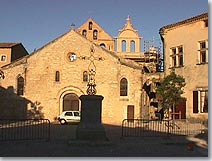 This is in a triangular form and holds no less than six bells. You're sure to be as astounded by the curious selection of styles with its facade adorned with gargoyles and the castellations more becoming of certain gothic monuments. This small village which you can only discover through it's two gateways has an atypical charm all of its own.






What to see:
The banks of the Rhone river. The "Batardeu" river wall.
St Martin's chapel (XIth). Gramont's chapel.
Saint-Michel's church.


Leisure activities:
Hiking/Walking. Mountain Biking. Horse Riding.
Fishing, Wind surfing.
Summer events.


Accommodation:

Bed and breakfast.
Rural gite. Vacation rentals.


Neighbouring towns and villages:
Orange (7 km), Chateauneuf du Pape (11 km), and Piolenc (13 km).