Vaugines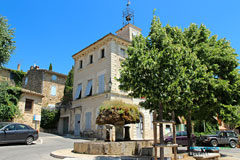 Vaugines is situated in the foothills of the Grand
Luberon
. It is a very old village, simple and charming far from the main routes.
It has kept its original Provencal identity, witnessed by its peaceful streets ornamented with pretty traditional houses.
Nature is here wild, beautiful and authentic ... it has also been celebrated in the films of "Jean de Florette" and "Manon des Sources", because it is in Vaugines that certain scenes were filmed...
... removing for some time the tranquility of the place and suddenly attracting lovers of picturesque Provence by
Marcel Pagnol
.
What to see
12thc. Romanesque church.
Renaissance style houses (La Capitainerie).
13th and 17thc. houses (la Commanderie).
Leisure activities
Hiking.
Cultural events.
Summer exhibitions.
Accomodations