Crestet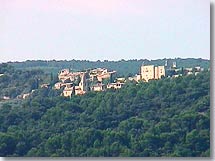 This charming little village lives up to its name. It is perched on a crest at the northern edge of the Dentelles de Montmirail mountain range. Before arriving at Crestet, you will be able to see the old village from afar, proudly positioned along the crest facing Mont Ventoux.
To discover this picturesque medieval village at first-hand, leave the D938 and follow a small road (D76) that winds its way up the hill.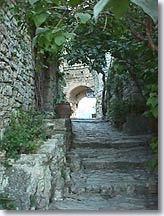 Once you get to the village, leave your car on the small square and continue your visit on foot through its charming narrow climbing streets. On the other side of the small square you will see the medieval chateau (12th century), former residence of the bishops of
Vaison la Romaine
.
In olden days when they were in conflict with the Comtes de Toulouse, the bishops of Vaison would seek refuge in this chateau when they were in danger. These days the chateau is privately owned and not open to the public... But this little medieval village has other treasures... You cannot miss the church of St Sauveur (11th century) with houses huddled around it, as if for protection.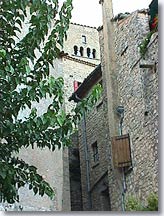 You will also be able to visit the
Stahly foundation
, former residence of sculptor Francois Stahly, (now owned by the
Ministry for Culture
) which exhibits sculptures and contemporary art works in an original manner. To get to it, visitors must take the
GR footpath
in the upper part of the village.
As if by magic an immense cube-shaped, white residence appears through the trees of the forest. A trail through the forest enables visitors to discover works of art spread among the trees. All year around artists are invited to come here and work on their creations, which are then presented on site during exhibitions.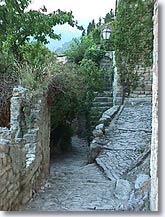 Don't leave Crestet without visiting the highest point of the village. From there you will have a breathtaking panoramic view of the Dentelles de Montmirail and the Mont Ventoux.
An orientation table will help you identify and put a name on the different peaks, crests, hills and valleys you can see.
Leisure activities
Tennis, walking and mountain biking.
Accomodations