Taillades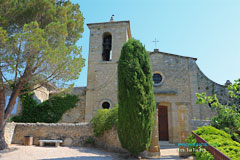 Close to
Cavaillon
, Taillades merits a detour to discover a medieval village which has kept its charm and offers pleasant walks. It is a classified village.
Once upon a time Les Taillades was an important stone quarrying center. The quarries were abandoned at the end of the XIX ° century and have now been transformed into an open air theater where dance, theater and concerts are held in August each year.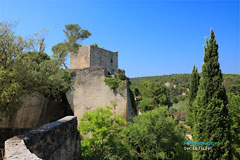 Go as far as the XIX° century Saint-Pierre mill, to see its large water wheel used in times gone by to mill flour. The mill is not a working mill but its water wheel still helps the waters of the
Carpentras
canal to flow by.
The marvellous landscapes which surround the village are protected as Taillades is within the
Luberon regional park
.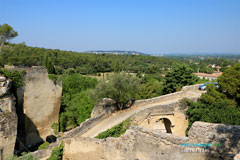 Abandoned at the end of the 19th century, these old quarries now house a natural theater where dance, theater and concert performances take place in August.
This site has been superbly highlighted, cypresses, oaks and wild flowers blend harmoniously with the stone and the rock worn by time, you will notice in passing whole sections of carved rocks, you will pass by a beautiful house in the XVII ° (private).
You will follow a path paved with stone which goes up through the quarry and overlooks it, in passing you admire the magnificent panorama of the village and the plain.
Arrived at the top of this superb path (count between 5 and 8 minutes on foot) you will arrive at the church and the small terrace which faces it very nicely framed by greenery and flowers and offering a very beautiful view of the castle and the entire quarry site.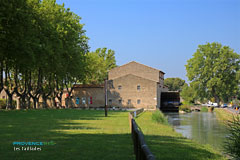 You can then go to the Saint-Pierre mill (19th century) to see its large paddle wheel used in the past to grind flour. The mill no longer pouted but its wheel still animated the waters of the Carpentras canal.
The wonderful landscapes that surround the village are protected: Les Taillades are part of the
Luberon Regional Natural Park
.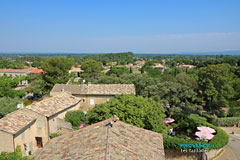 During your walks you will discover a generous and varied flora, you will smell the subtle scents of Mediterranean essences and aromatic plants of the garrigue ... you will of course be accompanied (if it is summer ...) by the song cicadas ... that you really can't forget!
What to see
Recently restored church, rebuilt in 1742 and 1758.
Former stone quarries.
Remains of ancient habitations. Sculpted rocks.
Village defensive Tower. Suspended way.
XVII°C. Chateau built in 7 ha of parkland (private).
St Pierre Mill water wheel (XIX°C).
Leisure activities
Walking and Hiking, Mountain Biking. Tennis.
Horse riding. Petanque.
Summer and cultural events.
12th May Fair at the St Pierre Mill.
Weekend of 15th August, village fete.
Accomodations
Bed and breakfast.
Vacation rentals.