Plan de la Tour
Departement of Var - Population : 3,000 inh.



Situated not far from St. Tropez (26km.) and Sainte Maxime (9 km). In the heart of the Massif des Maures.


Plan de la Tour is a little village surrounded by forests of pines and oaks, a wonderful spot for setting out on hikes.

Plan de la Tour offers the tranquillity and charm of a village in the shade of plane trees, where a certain easygoing lifestyle is the rule. This village in the heart of the Maures massif is surrounded by natural beauty.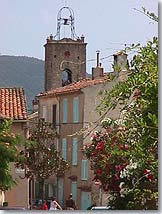 Plan de la Tour is not a village you pass through by accident, without stopping. The road taking you to Plan de La Tour does not go anywhere else, you have to go there on purpose.

This strategically off-centre position protects the tranquillity of people living in the village and the beautiful houses in the surrounding area.

Here, there is the peace and calm of a charming village in the shade of the plane trees, and also the proximity to the coast and the Bay of Saint Tropez (20 km) with all its excitement.






What to see:
St. Martin Church. St. Pierre Chapel.
Old towers.


Leisure activities:
Petanque. Tennis.
Hiking trails (GR51). Mountain biking.


Accommodation:
Hotels.
Bed and breakfast.
Holiday rentals.
Campisite.


Neighbouring towns and villages:
Sainte Maxime (9 km), La Garde Freinet (10 km), Le Muy (22 km),Saint Tropez (26 km).