10 km. north of St. Maximin by route D28, and 16 km. from Brignoles by Le Val.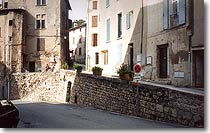 Bras is a charming village surrounded by wooded hills of pine and oak. This beautiful Iandscape and the typical Var inland will enchant you during your walks.

The hills are well appreciated by hunters for the game there (partridges, rabbits, and wild boars). It seems that recently deer have been sighted in these woods.Speleology is a common activity here, and fishermen unite at the Argens or the cauron for trout



History lovers will be interested by the Templar Knights' chapel where the "Commanderie de l'Ordre" was installed in the 12th century.
Don't miss the waterfall in Tombereau. FoIlow the banks of the Argens; it is three kilometers from the village. Superb !