Cogolin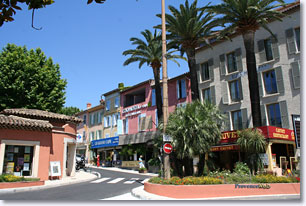 Located on the edge of the mountains of Maures and facing the Gulf of
Saint Tropez
, Cogolin is fortunate to be a stone's throw from the sea (and the mythical
Saint-Tropez
), to have an old village full of charm, a modern port converted into a marina as well as an international reputation for its pipe factories and carpet.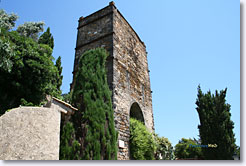 The 14th century clock tower, a vestige of the old fortified eastle, overlooks the village. One can still see an ancient windmill.
The Church of St. Sauveur (first half of the 15th century), the Chapel of St. Roch in the 17th and 19th centuries, the vaults and the houses with serpentine or volcanic stone porches of the Moors are the proud witnesses of the rich past history of Cogolin..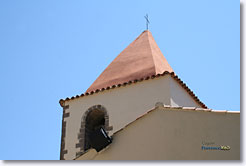 Many events are organized throughout the year, some beautiful exhibitions and museums are to be discovered..
The Raimu space, with its cinema and museum, is entirely dedicated to the great
Jules Raimu
, an eminent figure of Provence and the cinema of
Pagnol
. Created by his daughter, the museum is today managed by his granddaughter.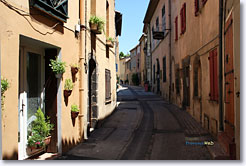 Throughout the year, craft fairs, flea markets, concerts and Provençal festivals enliven the village streets and attract many people.
4 km from the village, the
marina of Cogolin
is equipped with more than 1,500 rings. Its 4 pools are surrounded by residences with contemporary and original architecture.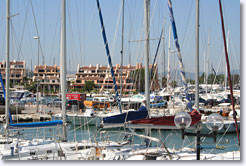 Shops, restaurants, shops and festivities liven up the quays and not far away, you will find the beach with its sailing base, its leisure area and its restaurants.
More intimate,
Port-Cogolin
is a charming little coastal shelter (180 rings) which offers all year round a choice of residences and villas with a warm welcome, superbly equipped with shops nearby..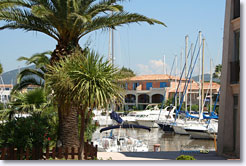 Crafts are also one of Cogolin's riches, here they are honored and find their true values.
The carpet factory, the factories of pipes, reeds for wind instruments, canes, pottery and ceramics, art metalwork are all treasures to discover.
What to see
St. Roch chapel. St. Sauveur church.
The clock tower.
The Raimu Museum. Le Chateau-Musee Sellier.
Art artisans, painters' workshops.
Leisure activities
Nautical sports. Harbor. Bike rental. Mini golf. Tennis.
Excursions, guided tours. Cinema. Nightclub.
Walk on Wednesday, Saturday and Friday morning (different neighborhoods).
Many summer events, exhibitions, craft fairs, flea markets.
"City Cup" regatta 3rd weekend in May.
Bravades and patronal feast on the 2nd weekend in May.
Harvest festival 3rd weekend in August.
Provencal festival last weekend in August.
Campings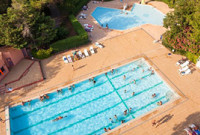 4* campsite 5 km from St Tropez with heated swimming pool, paddling pool, children's club. Entertainment. Restaurant. Air-conditioned wooden chalets and mobile homes for 2 to 6 people, 1 to 3 bedrooms, 1 or 2 bathrooms.
240

/ 240

Accomodations
Hotels .
Villas, Houses, apartments rentals.
Tourist Residences.
Bed and breakfast.
Campsites.