'; //-->
Garéoult
The Var Departement - Population : 5,504 inh.



16 km. south of Brignoles by route D554.



Gareoult is a large village in the middle of flatland crossed through by the Issole river.
The village is not directly on the banks of the river but slightly apart as is typical with many Provencal villages.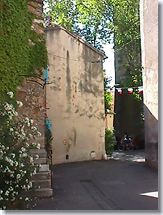 It also benefits from the presence of several sources north of the village. These are the sources of Saint Martin, Saint Medard and La Clastre which have given their names to the districts of the town. The village is surrounded by 500 ha of vines and 700 ha of wood and coppice.
Gareoult is a lively village, the craft, associative and commercial activity is dynamic. Over the years, Gareoult has become an increasingly important village, many houses are implanted around the village, these new residential districts or housing estates have an increasingly large population.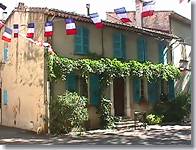 The town is organized and now offers some adequate infrastructure:
Gareoult's house (ceremonies, exhibitions, meetings ...).
Swimming pool.
A rugby stadium.
A college (1,300 students)....
In the center of the village one can stroll through the squares where people play "petanque", stop to admire St. Etienne church, and then head off for a few hours fishing along the banks of the Issole.






What to see:
St. Etienne church and its steeple.
The fountain on the Place de I'Eglise.


Leisure activities:
Walks. Swimming pool.


Accommodation:

Gites and holiday rentals.


Neighbouring towns and villages:
Forcalqueiret (5 km), Neoules (5 km) and La Roquebrussane (6 km).