Salernes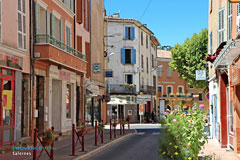 Situated in the valley of Bresque, where the rivers Pelicourt and Grave come together, this small town is both an artistic and an industrial center. Salernes is set on the side of a hill and is sheltered from the wind.
In this mild Mediterranean climate, it is pleasant to stroll about the narrow streets admiring the picturesque houses and the 11th c. church with its door and two spires. The many gurgling fountains are refreshing.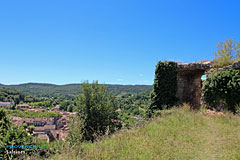 One can go up to visit the ruins of the old feudal castle from where one can discover the village seen from the sky, with its round tiled roofs.
Salernes is famous for the red hexagonal tiles that one sees in nearly every Provencal house.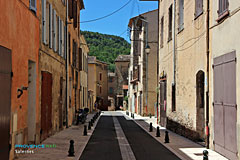 They are made of terracotta, glazed or not, and all come from the rich red iron filled soil of the area.
There are 15 very creative factories that offer their products, famous the world over.
What to see
Castle ruins.
St. Pierre Church.
The old village.
Leisure activities
Walking or horseback riding tours.
Tile factories.
Cyclo-tourism.
Accomodations
Hotels.
Bed and breakfast.
Holiday rentals.
Campsite.