Departement of Var - Population: 166.442 h
On the coast between Marseille (50 km) by the A50 and Saint Tropez (50 km)by
the A58 or the N98. International Airport of Toulon - Hyères (15 km)..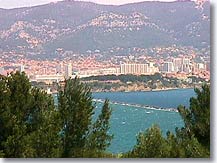 With the Mont Faron(542m,) in the background, and opening out onto a magnificient arbour designed by Mother Nature, Toulon is a city of contrast :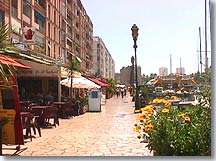 Its old picturesque city of ancient fountains and a colorful daily market with the smells and sounds typical of Provence.
Its large military port, which is the French Navy's war port for all of the Mediterranean, is also a marina for private boats, and the embarkation for Corsica and Sardinia.
Morillon, an area just minutes from the city center has 20ha, of well equipped beaches where all water sports are available.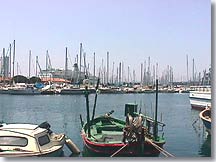 Because of its size Toulon can offer a complete choice of activities:

Music festivals,
the contempory art museum,
the naval museum,
the dance festival at Châteauvallon,
the Zenith concert hall seating 8,500
the Palais des Congrès...



What to see:

Cathedral Ste. Marie de la Seds. The doors of the Musée Naval
The St. François de Paul Church. Fortress ruins. The 18 fountains of the city...


Leisure activities:

Cable car to the Mont Faron (panoramic views) and its zoo.
Boat trips. Walks Flea markets. Antiques. Night clubs.

Hotels
Toulon (Var) - Bandol - Toulon

Perfectly situated in the center of Toulon, 2 steps from the harbor, facing the Mayol stadium and convention center. Design hotel with restaurant, bar and secure parking. AC rooms, quality bedding, wifi