Rayol Canadel sur Mer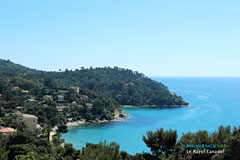 Facing the sea, Rayol Canadel stretches out into a semi circle of greenery.
To the north of the town is the Maures mountains, and to the south is the rocky coast formed of headlands, creeks and bays all sheltering four sand beaches.
One of these beaches was the choice for the
allied debarkation
on the 14th of August, 1944.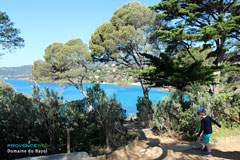 This is a highly wooded area (80% of the town) with forests of cork oaks, heather, and mimosa.
It is also the setting for some very beautiful Mediterranean homes.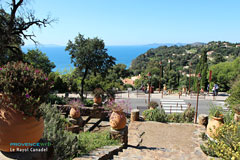 If you visit the Domaine du Rayol, for example, you will be able to imagine the activity on the Corniche des Maures at the beginning of the century when these incredible houses and gardens were in the making.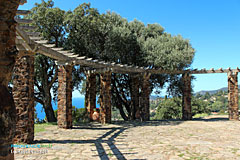 A must, the monumental staircase which leads to the sea, and the stairs in the center of town which end up at a round pergola:
Pateck
.
Leisure activities
Hiking. Tennis. Windsurting. Water skiing. Scuba diving.
Summer entertainment: concerts of classical music.
Around the city: Golf course at Ste Maxime.
Accomodations
Hotels.
Holiday House. Furnished apartments.
Bed and breakfast.
No camping.