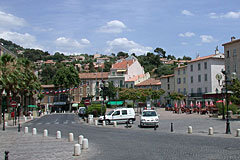 Located 5 kilometers inland, Ollioules is near the lovely beaches of the Provençal coast such as: Bandol, Six-Fours and Sanary is only 7 kilometers from Toulon.

Right at the edge of the canyons made famous by Gaspard de Besse, the medieval village has retained its charm and authenticity.




Its porticoed streets, flowered balconies and well restored buildings exude this atmosphere of genuiness.

It you walk up the path to the top of Gros Cerveau you will have a splendid view of the sea. Each year first class shows are put on by the Theâtre National de la Danse and the Image de Chateauvallon.

Ollioules is also an interesting archeolagical site. It seems that there are treasures just waiting to be found. The digs are on!