The Departement of Var - Pop.: 2,092 - Surface area: 2,226ha - Elevation.: 300m

20 km from Fréjus and 30km from Cannes.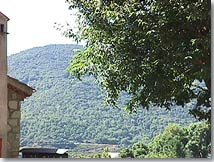 This charming Provençal village enjoys a panoramic view of the Riviera, from Nice to Saint-Tropez. It is situated very close to the Alpes Maritimes département, in the heart of the superb Estérel massif, just a few kilometres from the sea.

The Estérel massif that surrounds Les Adrets is covered with forests of pine trees, cork oaks and dense vegetation comprising many different Mediterranean plant species such as pink and white heather, broom, cistus, juniper, etc.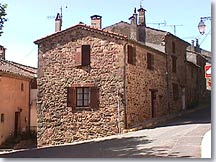 This is superb walking country, with footpaths guiding you to the lakes of Avellan and Saint Cassien. These two lakes are a paradise on earth for anglers. In addition, Saint Cassien Lake has several small beaches with bathing facilities as well as snack bars and pedal-boats.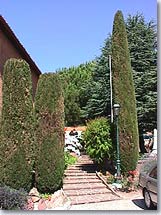 The Estérel massif used to be regarded as a wilderness, and had a bad reputation for a very long time because there were so many attacks on stagecoaches. It was the favourite hunting ground of the famous "Gaspard de Besse" gang, the local Robin Hood who robbed travellers on the road to Italy, handed out the loot to poor people, and then went off to hide in the Estérel forest.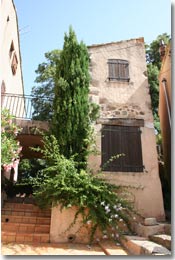 Those days are long gone now, and the village of Les Adrets is making the most of the gentle, peaceful, Provençal atmosphere. The "Auberge des Adrets" is a former staging inn which today welcomes visitors and travellers ... in complete tranquillity.

Les Adrets de l'Estérel is a truly magnificent spot, flooded with sunshine and surrounded by beautiful landscapes. Here you will be able to enjoy the tranquillity of a small village, while making the most of nautical pleasures on the coast (if you have a car).



What to see:
17th century church. Museum of Estérel (19th century arts and traditions)
Mareret spring. Roofed wells
Honey houses and hives (summer harvests in July and August).

Leisure activities:
Walking, horse riding and mountain biking.
Forest footpaths, Mont Vinaigre (614m), Pic de l'Ours.
Tennis. Horse riding. Archery. Pétanque Angling (St Cassien Lake and Avellan Lake).
Bathing, windsurfing, pedal-boats, boating on St Cassien Lake.
Camping sites
Les Adrets de l'Estérel (Côte Varoise - Fréjus/St Raphael) - Fréjus : 17 km

A quiet, friendly family campsite on 5 hectares on hillside
Swimming pool, wading pool, playground, restaurant
11km from the sea and 6km from the Lake St.Cassien