17km. northeast of Brignoles (on the N7). Take D554 then D562 going through Le Val.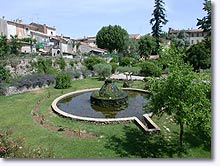 At 130m above sea level between the Provençal Alps and the Mediterreanean beaches, Carces is in the center of Var, built on a hill at the meeting place of the rivers Argens and Caramy. It is peaceful and green.

Wooded paths lead nature lovers through the woods and along the river banks. Walking along the tiny streets of the village you will discover its medieval character and its many craftsmen.

Very nearby is the lake ot Carcès, a Iovely spot ot 100 ha.
It is a paradise tor fishermen with its 8km. of banks.

Thanks to its four rivers, Carcès is renowned for its fresh water fishing.
The cicadas and the sun await your visit!