'; //-->
Draguignan
The Var Departement - Population : 40,058 inh.



On route N555 north of route N7 and highway A8 (exit Le Muy).


Once the prefecture of Var, this rapidly developing city is changing from an administrative and military center to a tourist and cultural attraction.
Strolling about one can stop and admire the city squares each with its own history (Place aux Herbes, Place de l'Observance, Place du Cros).


Lovely avenues lined with plane trees surround the old city where one can find ancient houses with sculptured doors and impressive portals.
The Tour de l'Horloge, the market place, the ancient chapels and the St. Michel Church should all be seen.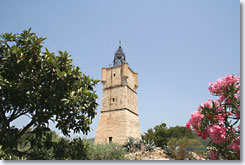 There are many museums to visit, in particular the Museum of Provencal Arts and Traditions (Musee des Arts et Traditions Provencales) which has an extensive exhibit of traditional crafts and materials, tomettes, provencakl kitchens).






What to see:
The dolmen of "La pierre de la fee": 2 meters high and weighing 60 tonnes. (on the road to Montferrat).
Artillery Museum: In the artillery school of Draguignan, the history and tactical developments of artillery.
Museum of Fine Arts of Draguignan.
The Rhone Memorial and the American cemetery which gathers 861 graves in homage to the Allied landing of August 15, 1944 called "Operation Dragoon".".
The Clock Rock with the Clock Tower, the Saint Sauveur Chapel.
The marketplace. St Michael's church, the old chapels.


Leisure activities:
Musical entertainment in the summer.
Various festivals and fairs (the olive fair).
Jazz Festival.


Accommodation:

Hotels.
Bed and breakfast.
Holiday Rentals.
Campsites.


Neighbouring towns and villages:
Trans en Provence (5 km), Flayosc (8 km), Figanieres (9 km) and Chateaudouble (16 km).