Saint Julien le Montagnier
Drive 30 km. on route D560 north of St. Maximin, then take D35.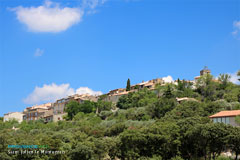 At 578m, altitude, St, Julien le Montagnier sits at the top of a hill which one can see from afar on the road that leads to this picturesque village.
The old village on the hillock is worth a detour..
Ancient houses of stone, and houses with beautiful doorways once belonging to the nobility, stand side by side giving character and uniqueness to St. Julien..
The new village down at the bottom is in a corner of an immense and deserted plain covered with wild and aromatic nature.
What to see
Romanesque church.
St. Trinity Chapell.
13th c. Medieval ramparts with a doorfortified by the Templar knights.
Leisure activities
Hiking (a marked trail leads directly to Verdon in 15 minutes, with beautiful sights all the way).
Tennis. Fishing.
Mountain biking.
Outdoor swimming pool.
Cyclo-tourism.
Accomodations
Holiday rentals.
Bed and breakfast.
Inn in the old village.
Campsite.