Departement of Var - Population: 137 h - Surface: 2.752 ha



14 km. north of Brignoles, by route D554 which goes to Barjols (8km.).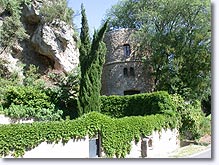 Châteauvert is a pleasant place in the center of Var, vivified by the lovely gurgling waters of the Argens river.

The river banks have been fitted out here and there offering charming little shady spots either just for cooling off, or for romantic picnics at the water's edge.