Montfort sur Argens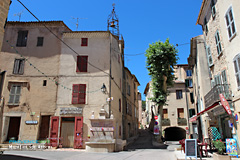 Montfort is a small village located in the center of the department in the Var hinterland, halfway between the seaside beaches and the
Verdon gorges.
.
The village peacefully overlooks the beautiful plain of the Argens river where olive trees alternate with vineyards with vast forests in the background.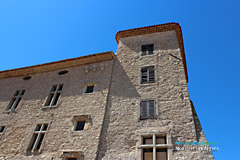 Arriving at Montfort, we first notice the imposing castle which dominates the village in the background at the top of the hill. Montfort is fortunate to have the only Templar castle in the Var on its territory.
This former 13th-century Templar commandery belonged first to the
Templars
, then to the
Hospitallers of Saint John of Jerusalem
, then to the
Order of Malta
.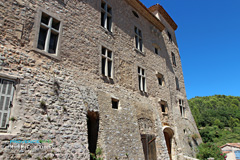 Destroyed at the end of the 16th century, rebuilt and transformed in the 18th century, the castle is today a private property which looks great with its stone facades, its two square towers, its mullioned windows and the four rows of sponge cake from the roof.
It cannot be visited unfortunately.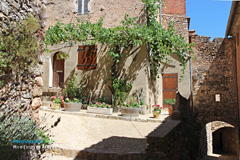 Montfort is a typically Provencal village. Walking through the alleys of the old part of the village which goes up to the castle, you will pass through cobblestone streets and vaulted passages.
You will come across small squares and beautiful doors weathered by time. The charm of the old stone houses with ancient tiles, packed against the castle is certain.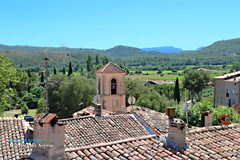 You will discover the remains of the ramparts, a 13th century portcullis door, the clock tower and its bell tower.
In the vicinity of the village, during random walks you can also admire the Ligurian enclosure of Casteau-Rigneau, the Prieuré des Speluques, the Gallo-Roman vestiges, the Pont des Mouo aqueduct and the Grand Baou waterfall..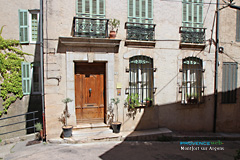 A superb canoe-kayak ride along the Argens river.
In the middle of a beautiful unspoiled nature, your canoe will easily follow the flow of water to the lock which is the point of arrival of the canoes.
What to see
The Castle of the Commanders.
St Blaise chapel.
The Clock Tower.
Notre-Dame-de-la-Purification.
The birthplace of Joseph Louis Lambot (inventor of reinforced cement).
Leisure activities
Hiking.
Climbing.
Tennis. Horse riding. Mountain biking.
Kayaking on the Argens.
Fishing.
Bed and breakfast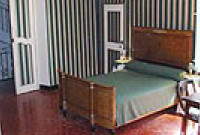 Bed & breakfast - 3 Guest rooms in a 19th Cent. renovated house in the heart of the village including 2 large bedrooms of 30m² for 1 to 3 people. Table d'Hôtes. Large common areas, guest lounge, terrace. Closed garage.
Accomodations
Bed and breakfast.
Holiday rentals. Gites.
Overnight gites open all year round.