'; //-->
La Roque Esclapon
The Var Departement - Population : 290 inh.



Take the D955 which links Draguignan (46 km) to Castellane then the D21 to Comps sur Artuby (12 km). From Castellane: take the road to Grasse (N85) then the D21 towards Comps sur Artuby.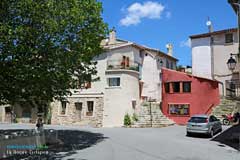 La Roque Esclapon is a small village perched at an altitude of 1,000 m in the Haut Var.
Its name means "La roche eclatee" (The exploded rock), you will understand when you arrive: the village is literally set in the middle of a circus of mountains.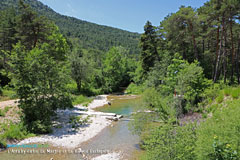 Before reaching the village you will cross immense woods belonging largely to the Canjuers military camps (magnificent but forbidden to walk). The green agricultural plains alternate with herds of livestock.
The Artuby river winds through oaks and fir trees, you are here in both mountain and Mediterranean landscapes.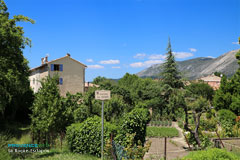 La Roque Esclapon is the highest village in the Var, it is called the "roof of the Var". It is surrounded by the Brouis, Malay and Mont Lachens mountains, the highest peak of which rises to 1,715 meters. From a distance you can spot it thanks to its two bumps on its top.
You can access Mont Lachens either by a path from La Bastide or by a tarmac road from the Col de Clavel, via La Bastide.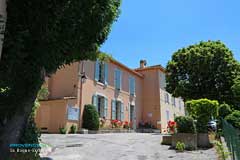 Needless to say, the panorama is awe-inspiring here, you will have a 360 ° view of the Var, the Parc du Mercantourmassif, the Sainte Baume bar, to the harbor of Toulon and its Mont Faron, and even the Corsica in very good weather.
The village offers many leisure activities, signposted hiking trails of course but also tennis and heated swimming pool.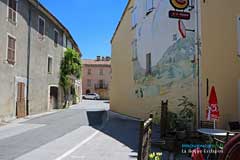 The summits offer an ideal playground for free flight, paragliding or hang gliding. You are close to the Gorges du Verdon, you can go rock climbing, canyoning and all white water sports.
All this explains why the population thus goes from 290 inhabitants in winter to 1,500 inhabitants in summer.






What to see:
Ste. Marguerite church (1860).
Notre Dame chapel.


Leisure activities:
Heated open air swimming pool (2 sizes).
Sports terrain. Tennis.
Lachens gliding center.
Horseback riding. Hiking.


Accommodation:

Campsite.
Bed and breakfast.
Holiday rentals


Neighbouring towns and villages:
La Bastide (2 km), Bargème (7 km) and La Martre (10 km).