Solliès Pont
15km. north of Toulon, take route N97.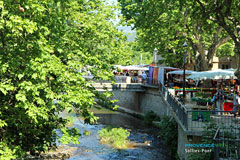 Amidst
olive groves
,
vineyards
and flowers, Sollies-Pont sets on the river Gapeau.
The great specialty of Sollies Pont is the fresh figs, also called the Sollies violet.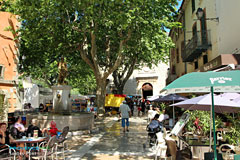 Very famous and appreciated by the great chefs, it obtained the appellation (AOC) in June 2006. The village is very proud to be the first French producer of figs.
Every last weekend in August the
Sollies fig festival
akes place with gastronomic competitions and entertainment.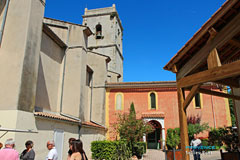 With
Sollies-Toucas
(3 km) and
Sollies-Ville
(2 km), the village of Sollies Pont is the largest of the three Sollies.
Originally there was only one Sollies, the current
Sollies-Ville
(which in fact contrary to its name is a small hilltop village).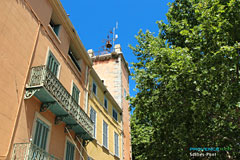 The territory of Sollies was then divided into several municipalities:
Sollies-Toucas
,
Sollies-Ville
, Sollies Pont and Sollies-Farlede (which became
La Farlede
in 1880).
At the end of the Middle Ages the first dwellings settled along the Gapeau river and the bridge that spans it, the place took the name of "borough of the Pont de Sollies" in the XVIIth century and then called Sollies Pont in the 18th century.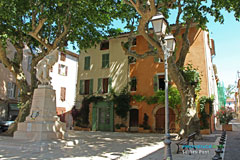 Today it is a small town, typical of Provencal villages which are developing and urbanizing little by little. Housing estates, shopping centers and highways are not far away.
It has kept in its center the charm of the village of yesteryear in which you can stroll, you will pass on its very pleasant and shaded place where you can cool off at one of its beautiful fountains or its cafe terraces.
During your walk, you will be able to discover its superb 16th century castle which today houses the town hall, the tourist office and exhibition halls. A nice walk is to be done in the public park which surrounds it.
What to see
St Jean Baptiste church built in 1668 and rebuilt in 1735. Chateau Forbin and its public park.
Accomodations
Hotels.
Bed and breakfast.
Holiday rentals.