Le Thoronet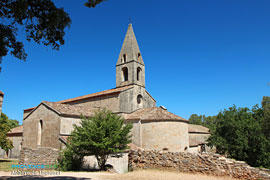 Le Thoronet Abbey sticks in the mind as the "chef d'oeuvre" of Roman Provencal Art. The abbey is admired for the simplicity of it's architecture which emits a sensation of serenity and oneness.
However Le Thoronet is also a typical village in the River Argens valley. The landscape is typical of Provencal limestone country, the garrigue and green oaks, rosemary, thyme and olive trees which sway gently in the breeze.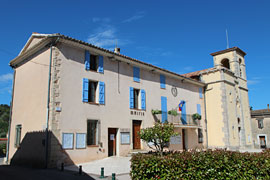 13 hamlets are distributed among the wild valleys. Linked by quiet rural lanes they offer the opportunity for some beautiful, easy walks.
Moreover if you wish to get even closer to nature try an adventure down the river by canoe or kayak, and reach those even more inaccessible and secret locations. You're not sure what you might find.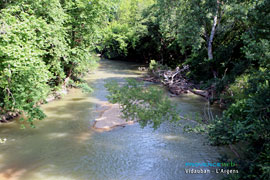 The Argens river:
If you have never done it before, this is an opportunity, if you are an amateur you will be delighted ... because there is only one way to discover the Argens correctly it is by canoeing.
You will practice the activity on the Argens in the heart of protected and preserved spaces. Access to the river is through the base of the castle (take the Lorgues road and after 1 km follow the Chemin des Fadons on the right for 500 m, the base is on the left). The descent takes place towards Entraigues. You can also reach the Chateau site by starting from the Pont des Camails (Rte de
Carces
, D84).
Check with the Tourist Office. Possibility to rent equipment and make descents under the supervision of Sylvie and Marc Leborgne. Information from the Sport and Nature association (04.94.73.89.07). If you want to know other parts of this coastal river, know that 2 other bases exist, one at Les Arcs (base des Plainons 04.94.73.38.01) and one at Vidauban (municipal base 04.94.73.15.50).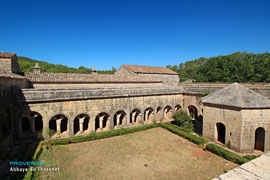 Do not miss: The Thoronet Abbey:
It's the main reason why you are here, and you're right because it is the most beautiful place. The architecture of this Cistercian Abbey, built between 1160 and 1190, is one of the most purest examples of Roman architecture in Provence. It emits the most profound sensations of purity and serenity. The structure of the Church, monks' dormitories and the cloisters were built in dry dressed stone, using ancient techniques. ->
More information (in French)
Leisure activities
Walking and mountain biking.
Canoe. Kayak. Fishing.
Cyclo-tourism.