Châteaudouble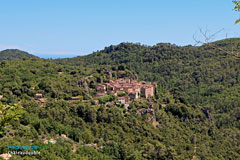 A real eagle's nest teetering on the top of a cliff (130meters high), Chateaudouble overlooks the green canyons of the same name.
This name which actually means
double castle
comes from the fact that there are two castles here. One is at the top of the village, the other on the banks of the river Nartuby.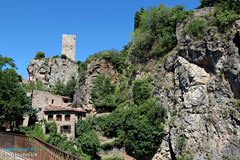 The turbulent past of this village reveals itself through the streets with their wide gently mounting staircases, the vaulted passages, the façades culpted with crosses (the symbol of the knights of the Crusades) and the eighteenth century houses along the river's edge.
Châteaudouble is a gem of Provence encased in greenery. To its nature lovers it offers magnificent walks: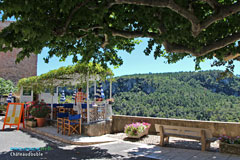 The canyons of Chateaudouble, carved out by the Nartuby and surrounded by fragrant and colorful underbrush.
The prehistoric caves (classified): Grottes des Chevres (Goat Caves), Grottes des chauves souris (Bat Caves), and the Grottes du Mouret.
The Hamlet of Rebouillon, a green island bordered by the Nartuby on one side and the canal of the
Reine Jeanne
on the other.
What to see
Notre Dame de I'Annonciation.
The wash house.
St. Peter's Chapel.
The Sarrasin tower. Ruins.
Leisure activities
Hiking, Walks.
Accomodations
Holiday rentals. Restaurants.