Comps sur Artuby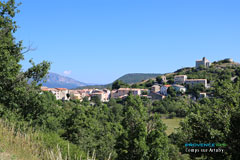 One of the most beautitul areas of Var, Comps sur Artuby, in Haut Var, is located at the entrance to the
Verdon Canyons
, near
lake Ste. Croix
and bordering the Pre-Alpes.
Originally built on top of a rock, this is an old fortified village in the middle of untamed lands. The old town is full of character and is a calm and restful place.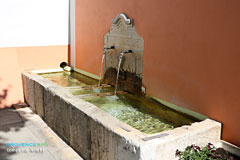 It is in a bucolic setting that you can discover the trails of Artuby which mark out the sublime landscapes that surround the village.
Comps-sur-Artuby brings together on its territory several small hamlets, the most important being La Souche and Le Jabron. The old town has a lot of character; you will come across several fountains and two washhouses.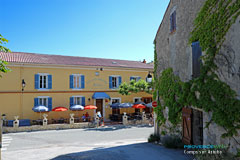 The atmosphere is calm and quiet within the village, small streets, old houses tastefully renovated make you forget the departmental road which crosses the village.
On the road which leads to the
Gorges du Verdon
or to the ski resorts of the
Alpes de Haute Provence
, Comps sur Artuby is often the stage where we stop for a lunch break on one of the cafe terraces and restaurants.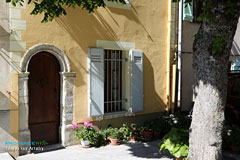 By the way, even without stopping, you cannot miss the gigantic trompe l'oeil of the bakery with the famous Fernandel in "La Femme du Boulanger".
Comps sur Artuby was once a stronghold of the
Templars
. The fortified chapel of Saint Andre is still there to testify to their presence at the beginning of the 12th century. We know that Comps has two
Great Masters in the Order of Hospitallers of the Order of St. John of Jerusalem
.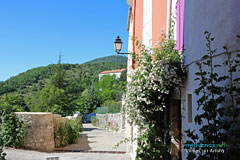 You can explore this glorious historic past by following the chapel circuit (the Saint-Andre chapel, the Saint Didier chapel, the Saint-Jean chapel (classified), the Sainte-Philomene chapel, the Notre-Dame chapel also called La Galine Grasse) and its cobbled paths. Without forgetting the Bonne Fontaine (recently restored medieval source), the Mauvais Pont, the Pont dit Romain du Hameau de La Souche.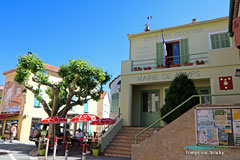 Comps sur Artuby is a privileged place for hikers and nature lovers. Many trails are marked out throughout the canton of Comps to allow you to admire its natural heritage, there are even botanical trails.
Going up on the hill of Saint Andre, you will have a magnificent panorama on the mountain massifs long eroded by time, the deep gorges, the high plateaus and the richly wooded mountains on the four cardinal points.
What to see
The Chapel of the Knights Templar St Andre XII ° (classified as a historic monument).
The Romanesque chapel of St Jean XII °.
The Romanesque chapel of St Didier.
The Sainte-Philome Chapel.
The Bad Bridge, the so-called Roman Bridge of the Hamlet of La Souche.
The river's banks
Leisure activities
Walks and hikes.
Gliding, paragliding.
Tennis.
Accomodations
Hotel.
campsite.