'; //-->
Montmeyan
The Var Departement - Population : 594 inh.



On route D560, 31 km. north of St. Maximin.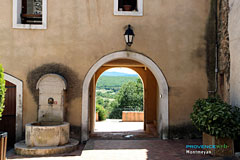 Montmeyan is a perched village not far from the Canyons of Verdon and the Lake Ste. Croix.The town looks over the plains of vineyards, fields of grain, lavander and d'olive trees.
In one glance, one can see the blue Maures mountains and the snowy peaks of the Alps.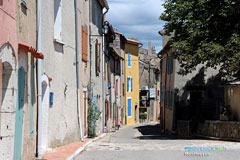 The walls give the village an odd look: they seem to be climbing up to assault he castle at the very top ! The church is also at the top, showing off its newly restored 12th c. section.
There is an undeniable charm about this village with its narrow arcades surrounded by ancient houses and the miniscule provençal squares.






What to see:
Ramparts.
Notre Dame du Plan church.
The lower Verdon canyons.


Leisure activities:
Fishing.
Hiking (lower Verdon canyons).
Mountain biking.
Randonnees cyclo-tourism.


Accommodation:

Bed and breakfast.
Campsites.


Neighbouring towns and villages:
Régusse (5 km), Tavernes (10 km) and La Verdière (12 km).