Les Salles sur Verdon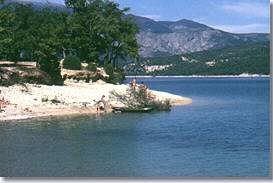 Long ago, Les Salles sur Verdon was a typical little village of Haut-Var which existed peacefully at the end of the valley.
In 1973 the village was sacriticed for the production of electricity and disappeared under the waters at the dam of St. Croix.
he first stone of the new town was laid in May 1970 and the village was rebuilt at the edge ot the new lake ot 2,700ha. Because ot this lake, Salles has become a summer resort and a tourist attraction.
The town is a mixture of modern architecture and traditional Provencal styles... Before the original town was destroyed, many ot the objects of Provencal interest were saved. One can see the old fountain, both wash houses, the bell tower, the monument to the dead and some typical door frames.
With its incomparable location the village people are trying to develop thei new life in a way that will be advantageous to all and well balanced at the same time. ln the summer the village can count up to 4,000 inhabitants.
What to see
The bell tower.
The lake.
Ilot (small island) de cote bleue, Costebelle island.
Leisure activities
Hiking. Mountain biking.
Canoeing, rowing.
Bungee jumping off the bridge at Artuby (182m. above water).
Accomodations
Hotel.
Holiday rentals - Gites.
Campsites.