Rocbaron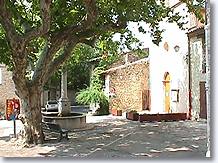 In the middle of the hills of the back country, Rocbaron is a little village surrounded by pines, green oaks, and chestnut trees.
You will appreciate the peaceful atmosphere of this village which offers wonderful walks in its environs.
What to see
St. Sauveur church.
Ruins of the St. Sauveur castle (12th c.).
Roman fountain Fardelle.
Accomodations
Bed and breakfast.
Holiday rentals.